Dr. Mark Goldstein – Versatile Veterinarian Has Done It All: From Elephants to Shelter Dogs
Dr. Mark Goldstein is as versatile as a veterinarian can get, with the longest book title ever: "Lions and Tigers and Hamsters: What Animals Large and Small Taught Me About Life, Love, and Humanity."
He's done it all: collecting semen from rhinos (which he explains) and a lowland gorilla, he was once nearly killed by an Asian elephant. We also discuss zoos, as Dr. Goldstein was once director of the Los Angeles and Boston Zoos on my national Steve Dale's Pet World radio show.
From the time Dr. Goldstein was a little boy—even before he had his first dog—he was fascinated by creatures both domestic and wild.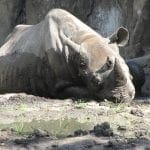 After graduating veterinary school at Cornell University, he became a veterinarian in clinical practice dealing with pets, then he was named director of two zoos, then headed of a progressive and significant humane society where he advocated for animal welfare for shelter animals. His extraordinary career spanned 30-year career.
Dr. Goldstein's book is a must read for anyone wanting to enter veterinary school. Also, it's a must read to take you behind the scenes at zoos, small animal veterinary practices and an animals shelter. Most of all, Goldstein is a great story teller, so his book is a great read too!