Passing of Dr. Lester Fisher Lincoln Park Zoo; Steve Dale Offers Personal Reflections
Just short of his 101st birthday Dr. Lester Fisher, legendary former director of the Lincoln Park Zoo passed away.
Personal observations: Dr. Fisher was always in my life. Growing up there weren't the myriad of animal shows on cable there are today, so my dad who also loved watching these programs and I never missed Mutual of Omaha's Wild Kingdom with Marlin Perkins (who Dr. Fisher replaced as the Lincoln Park Zoo Director in 1947) and Dr. Fisher's TV appearances, oten with the late Ray Raynor.  While working at WUIC Radio in college at the U of I, Chicago, I'd frequently interview Dr. Fisher, he was always available for a college kid on a station heard by six people. I've never forgotten that kindness.
Only a few years after graduating, with Dr. Fisher's encouragement, I became a docent a the zoo. As I volunteer, he personally tapped to help to edit and to write the newsletter. He gave me a budget to have it printed as at that time online didn't exist. I worked hands-on with animals and in my first year, hosted the legendary chimpanzee tea party. Of course, today nothing like this would happen, but who knew better back then? Dr. Fisher put an end to the tradition, of pulling a baby great ape from mom and raising the tot in the Children Zoo to have them work with people like to "put on a show." I also presented Arctic foxes, European ferrets, several kinds of snakes and rabbits. In addition, I gave talks about gorillas in the new Great Ape, which was Dr. Fisher's pride an joy. He'd always have time to meet with
me,and actually we often talked city politics or about upcoming hopes he had for the zoo.
After several years, I departed as my schedule was just to busy – but I loved my time at the zoo. Later we reconnected when I authored a book called American Zoos, which I dedicated to my dad and Dr.Fisher. The book signing at the zoo gift shop attracted several hundred, including Dr. Fisher.
In 2005, I wrote a blurb for the book jacket of his book Dr. Fisher's Life on the Ark: Green Alligators, Bishman and Other Hare-Raising Tales from America's Most Popular Zoo and Around the World.  There was one interview I did with Dr. Fisher at WGN Radio where afterwards, he asked to use a phone, asking his then dying wife Wendy "How did I do?" Of course, he always did great.
I loved making Dr. Fisher laugh and recall one of the last times I did that, when I said this to him about his longtime friend Betty White who is about one-year is junior "You're the only person I know who can ask Betty White, 'How ya doin' kid?"
Celebrating his 100th birthday, here is the interview I did with with Dr. Fisher on WGN radio in February on WGN Radio; he was coherent and wonderful to talk with.
More with Dr. Fisher on this WGN Radio podcast I hosted, including a story about how a bear made its way out of the zoo and into a neighborhood bar. Could that really happen?
Fun fact: Dr. Fisher served in World War II in Europe as a veterinarian for Gen. George S. Patton's bull terrier, Willie.
Mark Rosenthal was the Zoo from 1968 until 2003, and Curator of Mammals. He told me, "Les made an impact on Lincoln Park Zoo as it affected how animals were managed in an effort to give them more space and modernize; he was the builder ahead of his time. He set an example for other zoos. He worked very hard to fulfill his vision. Because of his affinity to gorillas, he was leader the Species Survival Program for gorillas in zoos. He moved all the great apes out of that antiquated building in what is now the Lester Fisher Great Ape House." Rosenthal said he spoke recently with Dr. Fisher, who was then doing well.
Here is the official release from the Lincoln Park Zoo: 
Chicago (December 23, 2021) – Lincoln Park Zoo is disheartened to share former Zoo Director Dr. Lester E. Fisher passed away at the age of 100 on December 22. A Lincoln Park Zoo icon and household name, Dr. Fisher transformed the notion of what a zoo is during his 30-year tenure as zoo director of Lincoln Park Zoo, emphasizing the importance of education and conservation while furthering animal welfare and care.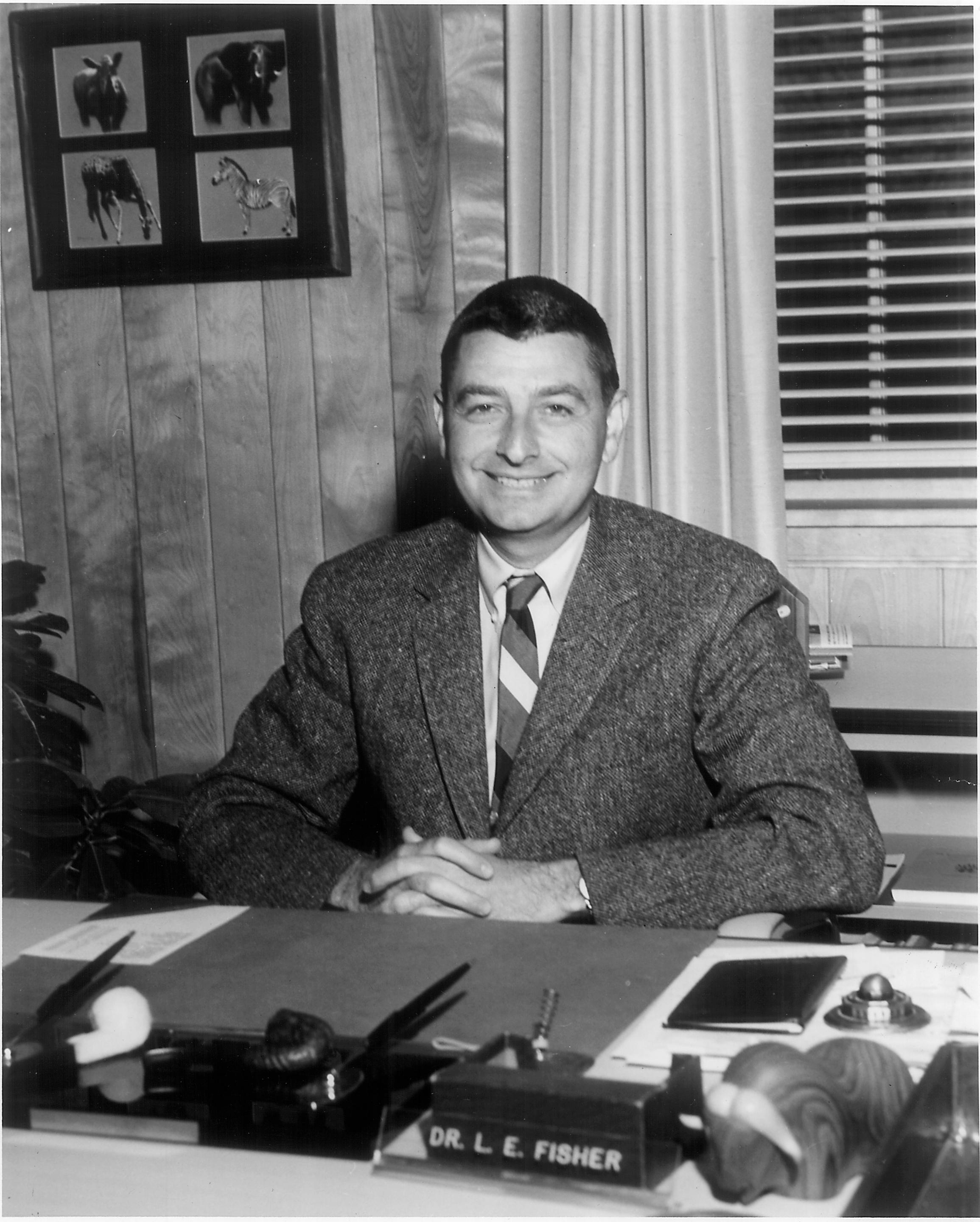 "Dr. Lester Fisher laid the foundation for the institution Lincoln Park Zoo is today," said C. John Mostofi, Chairman of the Board of Trustees of Lincoln Park Zoo. "As zoo director, Dr. Fisher transformed the zoo from an old-fashioned facility into a center of care and conservation. He built the first Great Ape House with exhibits designed to mimic natural habitats, and today his name graces the Dr. Lester E. Fisher Center for the Study and Conservation of Apes, one of the world's leading ape behavior and science centers. From joining the zoo in 1947 to his retirement in 1992, Dr. Fisher officially served Lincoln Park Zoo for nearly 45 years. But his service to wildlife and Lincoln Park Zoo continued long past his leadership tenure; as recently as this month Dr. Fisher was regularly in touch with President & CEO Kevin Bell and Zoo Director and CEO-elect Megan Ross, Ph.D. I am confident I speak on behalf of the entire Board of Trustees in stating that we are grateful for Dr. Fisher's truly remarkable life, and we will protect and continue his legacy long into the future."
Dr. Fisher's journey to Lincoln Park Zoo was nothing short of remarkable and fascinating. During World War II, he served in the U.S. army where he cared for 5,000 messenger pigeons, as well as kept an eye on General George S. Patton's famous bulldog "Willie". From there, he became familiar with Lincoln Park Zoo through a friend of his who would be called to the zoo when an animal required medical attention.
Dr. Fisher was hired as Lincoln Park Zoo's first veterinarian in 1947 and later served as Zoo Director from 1962 until his retirement in 1992. In total, Fisher's career lasted nearly 45 years at the zoo.
As the zoo's first veterinarian, he worked alongside Marlin Perkins, cultivating both a professional relationship with Perkins as well as a friendship. When Perkins left Lincoln Park Zoo in 1962, Dr. Fisher took over as the zoo's new director. He became a Chicago household name through his many appearances on WGN.
As Zoo Director, Dr. Fisher transformed Lincoln Park Zoo into the state-of-the-art institution it is today—improving animal buildings and habitats and strengthening education and conservation initiatives. Species in the zoo's care flourished during Dr. Fisher's time at the zoo with expanded and modernized habitats.
Dr. Fisher had an affinity for gorillas, having spent time studying them in Africa. In 1976, Lincoln Park Zoo opened the Lester E. Fisher Great Ape House, which enabled the zoo to continue its groundbreaking work with western lowland gorillas. Lincoln Park Zoo was home to the largest gorilla population in North America through Dr. Fisher's expertise in great apes.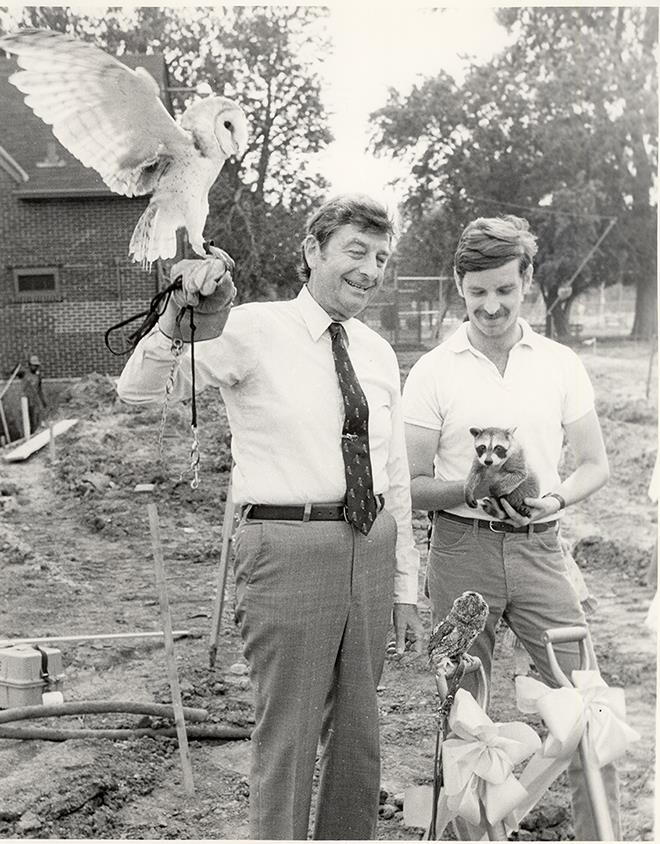 Since the opening of the Lester E. Fisher Great Ape House, it has since been replaced by the Regenstein Center for African Apes in 2004 to accommodate gorilla and chimpanzee groups and further welfare for the endangered species. Thanks to Dr. Fisher's initial efforts, Lincoln Park Zoo's great ape state-of-the-art facility remains one of the best of its kind and is known worldwide. Today, Regenstein Center for African Apes houses the Lester E. Fisher Center for the Study and Conservation of apes, where it continues to further groundbreaking research with a team of scientists both at the zoo and at field sites in the Republic of Congo.
Dr. Fisher also built the first farm with domesticated animals in a zoo in the country, bringing agriculture to a large urban population. Farm-in-the-Zoo is still beloved by adult Chicagoans and youngsters alike.
Under his 30-year tenure, Fisher emphasized the importance of educating the public about the role zoos serve in society as conservation powerhouses. Visiting the zoo became an educational journey. He also encouraged animal care staff to further their education and hired experts who had the proper knowledge to provide world-class care.
One such expert Dr. Fisher hired in 1976 was Kevin J. Bell. Since then, Bell has served as Lincoln Park Zoo's CEO & President for the past 26 years—passing the torch to CEO-Elect Megan Ross, Ph.D. in January 2022.
Dr. Fisher served as both a mentor and friend to Bell, providing support and advice when needed.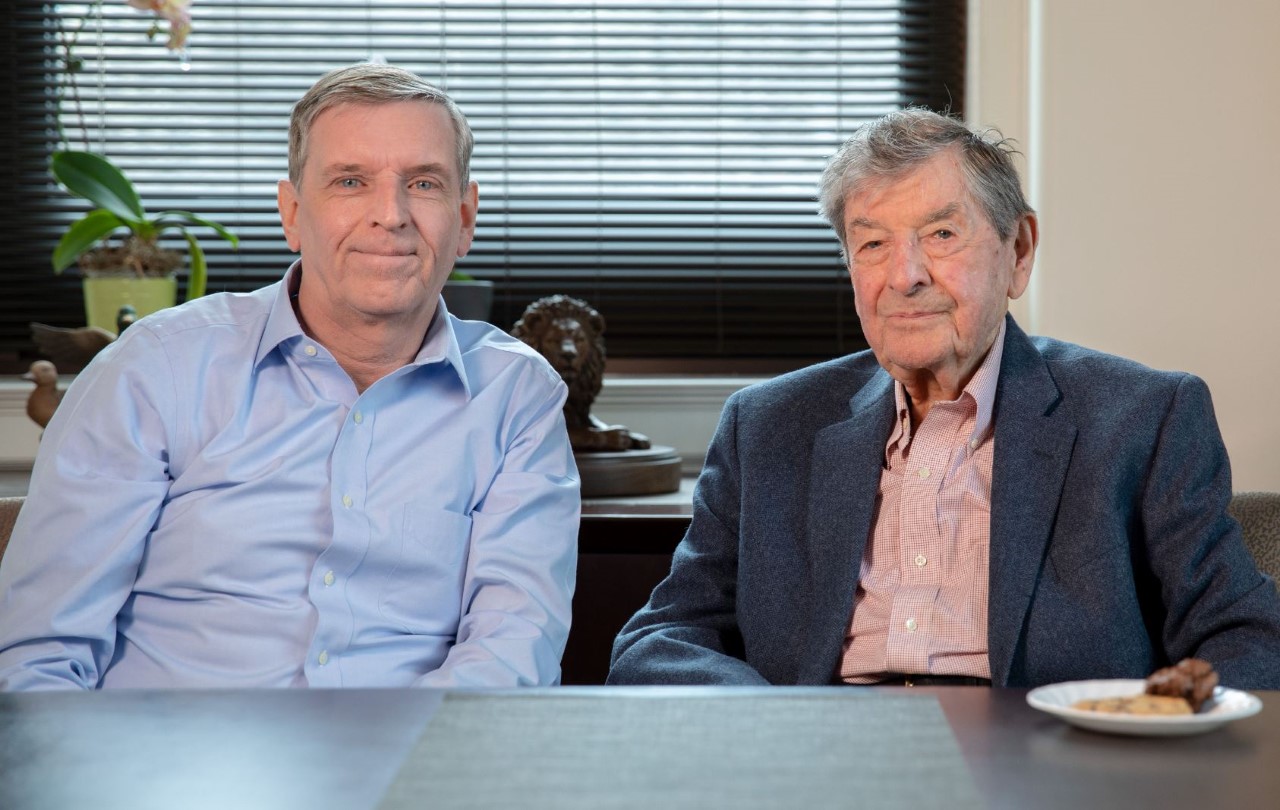 Lincoln Park Zoo President & CEO Kevin J. Bell said, "A big piece of my heart is lost. Les transformed 'the old zoo' into a leader internationally in both exhibits and programs. He was so beloved by every zoo director from all parts of the world, and in Chicago, he was a bit of a rock star. Walking around the zoo with him meant stopping constantly to sign autographs. People supported the zoo because they trusted Dr. Fisher, and he never let them down. I will miss him."
Zoo Director and CEO-elect Megan Ross, Ph.D., added, "Dr. Fisher was a kind and gentle spirit who I had the privilege of learning from as I took on the role of zoo director. I will be forever grateful to him for meeting with me and Kevin as three generations of zoo directors, sharing his insights on the thrills and challenges of running an institution with animals in our care, and just sharing his stories from the 60s and 70s at Lincoln Park Zoo. His passing is a huge loss for the zoo community, and while I miss him personally, my heart goes out to his family and the many, many people whose lives he affected."
The Lincoln Park Zoo family is saddened by this great loss. Dr. Lester E. Fisher's remarkable efforts to transform Lincoln Park Zoo into a world-class institution and beloved Chicago destination are apparent by simply taking a trip to the zoo, where species of all kinds are flourishing in an urban oasis.
Dr. Fisher with Ray Rayner, circa 1974: